Reporting kitty Enough with this crap
Hello before i get into this report i would like to say i have not got very good grammar.
Your RP Name

*
>>SK Manger Duck
Your SteamID

*
>>

STEAM_1:0:156780497
Are you reporting Staff or Players

*
>>Staff
What are their names

*
>>Kitty Blue
What are their SteamIDs
>>

STEAM_1:1:104853264
What happened

*

 (give us as much detail as possible, including evidence)
>>So i raided a fishmens base (4 of them was fishing on the island) so i ASSUMED they had printers and when i killed them all when i done /raid and according to her it was mass rdm and i have screen shots of her lying. Proof: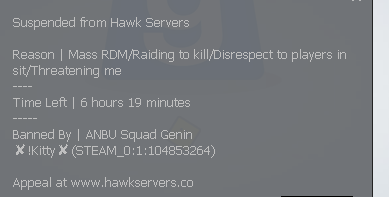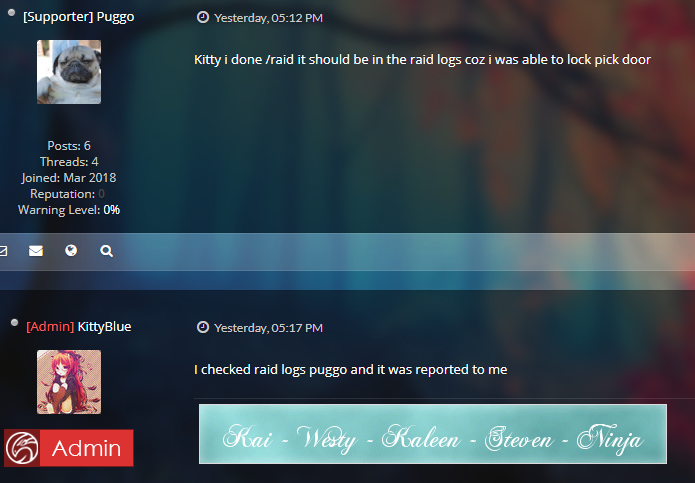 So according to her in my ban appeal i was NOT RADING but on my ban it says i was "RADING FOR KILLS" Any ways thank u all for ur time and i would like to see justice!
Oh you're manager duck? Oh yeah you did raid to kill and then in the sit you got highly aggressive towards me, what's your point?
Hello,
Is there evidence of you doing /raid? If so, please make a reply to my reply showing the proof. Thanks.
Hey,
You have been unbanned already considering your 6hour ban is now finished. So I will close this thread.
Users browsing this thread:
1 Guest(s)